Audio branding is a powerful tool for video makers. It can help to distinguish your brand or product from others, create an emotional connection with your audience, and enhance the overall user experience.
Audio branding refers to the audio aspects of your business and content. It captures how your users hear your content, business, or service. Some classic examples of successful audio branding include the McDonald's theme "I'm Lovin It" and the Netflix startup logo ident "ta-dum". 
We typically refer brand sounds to as "audio logos" or "sound marks." A sound mark is a unique combination of notes and/or sound effects that represent a brand or product. Think of them like jingles; they are designed to be easily recognisable and memorable.
Audio branding is essential for all businesses, especially as move into the era of video, fast delivery of content and audio-only ads.
In this article I will cover:
What is audio branding?
What are brand sounds called?
Why is audio branding important?
How to use audio branding?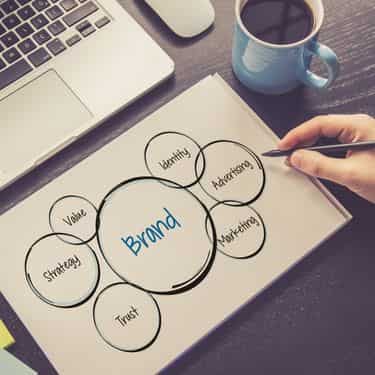 What Is Audio Branding?
Audio branding helps to differentiate your videos and content from the competition by creating an emotional connection with your viewers.
Research has shown that audio logos can increase the recognition of a brand. [source]
Additionally, when used correctly in conjunction with visuals, audio logos can greatly enhance the overall user experience. For example, if you are introducing yourself in a video or podcast, playing an audio logo before you speak will help establish a context for viewers who may not know who you are yet.
What Are Brand Sounds Called?
Brand sounds are known by a variety of names, including; idents, jingles, audio logos, sonic identities, brand sonics or a sound mark.
They can be used to identify a brand or product, create an emotional connection with the audience, and enhance the overall user experience. Brand sounds can be implemented in a number of ways, including as standalone audio files, as part of a soundtrack, or as part of an audio logo.
Why Is Audio Branding Important?
The power of music in business and brand promotion is no secret. Big brands spend many dollars and hours carefully selecting the music for their latest advertising campaign. The benefits of getting the music right in your advertising campaign are well documented. [source]
Audio branding is more than just picking the right advertising soundtrack.
As so many of us are now on our smartphones and interacting with noise and content most of the day, the competition space for our attention is limited and anyone looking to get our attention, big it big tech or individual content creators, is looking for an edge.
Audio branding is one way to get that edge and grab our attention.
Therefore, audio branding is not just about your latest advertising campaign or how good your logo ident sounds, it is about thinking about how users and potential customers come into contact with your content (also known as "touch-points" ).
If you can communicate your brand or content elements at every user or customer "touch-point" you will be optimising your brand presence online.
For example,
Do you have a logo with sound?
Do you use regular sound effects on social media that communicate your brand message?
Do you have regular voiceovers and what does the tone of those voice-overs say to your audience? 
If you consider all the areas where users come into contact with your business and content, from social media to YouTube and everything in between, and think about how users perceive your brand audibly, you can greatly improve how your audience feels about your brand and how well they remember your brand.
The Benefits Of Audio Branding
If you can get your audio branding right, you improve the audience's reach and engagement with your content, brand or business.
Audio branding offers significant advantages and benefits to business and content creators, including:
1. Brand Recall
Using some sort of musical "ident" or sound logo to promote your brand or content will help your user recall your business much easier. 
Audio ads drive 24% higher recall on average than display ads, according to a Spotify for brands report. [source] 
It is amazing to think that only hearing a sound or a lyric can bring a brand to the forefront of your mind. 
2. Motivation to Engage
If your audience likes or even loves your sound, they may be motivated to engage.
If your brand or content sounds good, your brand or content will be perceived as good on a first impression and your audience engagement will increase
3. Room to Compete 
In an online world where we are constantly being bombarded with images, pop-up screens and signup offers, using music to grab or engage your audience could be an effective strategy to compete in an overcrowded market. 
According to PHMG, 79% of audio consumption takes place while we're engaged in other tasks. [source]
So if your audience is reading a book, scrolling on social media, cleaning the kitchen or working, you can still promote your brand to them and not have to compete with the visual content already fighting for their attention. 
How To Use Audio Branding?
There are many ways content creators and businesses can use audio to build their brand and connect with their audience on a sonic level.
Using audio branding effectively requires careful thought and planning. First, think about what type of message you want to convey with your sound mark; do you want something upbeat and cheerful? Something dramatic? Or something subtle? Once you have decided on the type of message you want your sound mark to communicate, choose instruments (e.g., piano or guitar) that will fit that message best.
Then consider length—audio logos should be short enough that they don't become annoying after repeated listens but long enough to be easily recognisable as yours whenever someone hears it (usually between 1–5 seconds).
Finally, make sure that your audio logo stands out from other similar sounds while still fitting in with your overall content strategy; this will ensure maximum impact when used in conjunction with visuals.
Here are a few examples of areas where you can incorporate audio branding into your business and content.
1. Use A Logo Ident
Does your business or content have a logo?
Logos are not just for big business. Individual content creators can get an affordable logo designed online which is brilliant to use across all your content platforms from social media, websites and YouTube videos.
In today's world, it is very simple to get quality and great-looking logos.
Not only can you get a fantastic logo designed by a top-class graphic designer, but you can also have it animated.
If you get to the stage of having an animated logo, why not place a "musical ident" or audio tag over it?
It would be better to have a custom audio logo to keep your audio logo unique, however, if you want an "off the shelf" option, there are many audio logos which can be found in most of the larger royalty-free music libraries online such as Shutterstock.
Just remember, these are not exclusive to your business and can be used by others.
If you are a YouTuber, placing your logo ident at the end or beginning of your videos will help build brand trust and recall in your audience. 
2. Social Media Sounds
It is hard to be heard amongst the crowd on social media these days. It is critical to business promotion and brand success to have your social media platforms looking good – but have you thought about your sound?
Do you have an introduction video on your website or social media platform? If so, have you just picked a generic music track that you like or have you thought about your music choice?
Picking the right soundtrack as background music for any self-promotional videos is essential. 
Imagine if a law firm had a "what we do" video on their website or social media platform and they used POP music as the background soundtrack. 
A typical law firm will want to promote a brand image and a feeling of trust and professionalism. POP music is a bad choice as this screams "fun times" and "party". In this instance, the law firm should consider a positive yet classical music track as it will promote trust, experience and professionalism. 
The music you chose for any promotional content should always reinforce the feelings and mood of the message you want to promote. 
3. Theme Music
Theme music used to be seen as a tool only for big brands and Hollywood films, but it is becoming more affordable and accessible for individual content creators to have their own theme music.
If you want your theme music to be exclusive, i.e., custom written for your brand, it will take more time and money to get right. 
Alternatively, you could use a royalty-free music track that you really like, but use it on repeat.
In recent years, big brands seem to have moved away from custom theme music and are using commercial songs for their major advertising campaigns more and more. 
The advantage of this is that they can ride on the success of the popular song – many won't turn off the ad simply because they love the music, however, this leads to a big reduction in brand recall.
A few years ago, a major car manufacturer used "Happy" by Pharrell Williams as their advertising theme tune – I can remember the song, but not the car brand!
Yet, I can sing you countless theme tunes from my youth and recall all the brand names because they used catchy custom theme music. 
Theme music will allow users to recall your brand and content for decades if you get it right.
It is a bit trickier to apply theme music to content creation, but worth considering.
Final Thoughts
Audio branding is an important part of any video maker's content strategy because it helps distinguish their videos from the competition while also creating an emotional connection with viewers.
We seem to be constantly consuming audio, be it in the form of podcasts, audiobooks, streaming services or social media.
With so much visual content fighting for our attention, adding an audio element to your brand strategy could be the competitive edge your content is looking for.
Perhaps some consistent intro music on your podcast or audio logo ident on your YouTube channel could help your content to stay in the minds of your audience.
You don't need to go big like using theme music. A simple audio tag over your animated logo could be all it takes to help build trust in your brand.