Copyright can be the bane of many Content Creators' existence.
Finding music that you can use without fear of being struck down by the ever-present copyright infringement police can be a dense world to sift through, and it is important to find music that is safe from any DMCA retribution or copyright strikes.
DMCA music is stream-safe music. It is music that will not get flagged by the Digital Millennium Copyright Act (DMCA) and as a result, will help prevent streamers on Twitch and other platforms from receiving a copyright strike.
DMCA music is not copyright-free music as many believe. It is music where the music creator allows streamers to use their music and not raise any copyright claims against them.
Basically, the musical artist or copyright owner is letting streamers use their music with permission. This is great news for streamers, as getting permission from the music copyright holder is the safest way to protect against copyright infringement on any platform, from Twitch to YouTube.
In this article, I want to explore what DMCA music is, covering:
What is a DMCA violation?
How do I avoid a DMCA copyright strike?
What type of music can I use on Twitch?
What is Soundtrack for Twitch?
Where can I find DMCA-free music?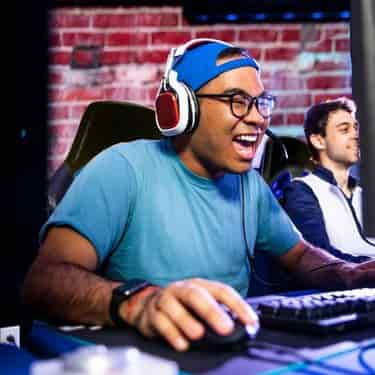 What Is A DMCA Violation?
To understand what DMCA music is, we need to understand what a DMCA violation is first.
If you are not already aware, DMCA stands for Digital Millenium Copyright Act, and in its very basic form, from the viewpoint of gamers and streamers, gives copyright owners tight control over their creative works. 
The act has caused enormous problems for streamers, especially on Twitch, as suddenly a music copyright holder can issue a "takedown notice" if they believe their music copyright is being infringed. 
This has caused major headaches for Twitch streamers and users of music in streams worldwide as suddenly their streams violate copyright and have to be taken down.
What Is DMCA Free Music?
In response to the DMCA violations that appeared on Twitch overnight back in October 2020, musical artists started labelling their music as "DMCA Free".
This was a way for musical artists to tell Twitch streamers that their music was safe to stream on Twitch, that streamers had permission to use their music and that they would not issue copyright take-down notices to the streamers of their music.
As a musical artist myself, I want streamers to use my music on Twitch and other platforms. Although I give my music away for free, I find streamers are so grateful for this service that they often follow me on Spotify and stream my music there, which results in some music royalties.
By issuing a DMCA Free Music Licence, I am telling Twitch streamers they can use my music safely on Twitch without fear of the dreaded copyright take-down notice which can kill a channel.
How Do I Avoid A DMCA Copyright Strike?
To avoid a DMCA copyright strike on Twitch, you need to ensure that you have permission from the music copyright holder to use the music. 
There are lots of articles online discussing DMCA music copyright, but as a twitch streamer you have to ensure that you can answer yes to the following question – "Do you have permission from the music copyright owner to use this music in your Twitch stream?"
If you can answer a firm "yes" to this question and can prove it if asked, you know you are on the right side of the DMCA copyright rules.
What Type Of Music Can I Use On Twitch?
The Twitch community guidelines are really clear on what type of music content Twitch allows. It states the following at the time of writing this article: 
Here are some example types of music content you may use in Twitch streams and on-demand content:

Music Owned By You – Original music which was written by you and either recorded or performed live by you, and for which you own or control all rights necessary to share the music on Twitch, including the rights to the recording, performance, and to the underlying music and lyrics. Please remember that if you have a contractual relationship with an organization that controls rights to the content you create, such as a record label or publishing company, you should make sure that you are not in violation of that relationship by sharing that music on Twitch.

Music Licensed To You – Copyrighted music owned in whole or part by someone other than you, if you have secured a license to share it on Twitch from the relevant copyright holders.

Music Streamed Using Soundtrack by Twitch – Music added to your live streams using Soundtrack by Twitch

Twitch Music Guides
Unfortunately, we are not all legal gurus, and navigating the world of royalty-free music, non-copyright music and DMCA-safe music can be a daunting and tricky one. The above extract summarises the Twitch terms on music use nicely.
You can read more about the music you can use on Twitch in much greater detail here.
What Is Soundtrack for Twitch?
Soundtrack by Twitch is described (by the people themselves no less) as "a new tool made specifically for Twitch creators to feature licensed music within their live streams while also creating a new way for musicians to be discovered by the Twitch community".
Essentially, it's a Spotify player that's been implemented specifically for Twitch (and Twitch only) and had its entire library of music cleared for all streams on the platform.
Twitch has also (kindly) put together a range of different genres and mood soundtracks, but currently you can't curate your own tunes into your own custom playlist.
Whether that functionality will arrive in the future is yet to be seen, but it's not an absurd idea to think this will become a possibility. There are also stations which endlessly play music of a certain genre.
Currently, it's only available for PC downloads (but this may change in the future judging by the way they've written the details on their FAQ page), but the product has built-in functionality for OBS and Streamlabs, meaning it can integrate with the vast majority of people's set-ups easily.
A nice side note, it separates its audio sources, so the music won't be recorded to your VODs or clips archive and will only be live during your actual stream.
Being such a new accessory (and still in Beta), there are bound to be teething issues and anomalies that occur. However, if you encounter a problem, you can report bugs to Twitch here.
If you're a Twitch streamer that regularly suffers from audio copyright based headaches, this could be a great tool to check out.
Where Can I Find DMCA Free Music?
Coya Music has an extensive collection of DMCA Free Music. All the music on CoyaMusic.com is DMCA free and is also part of the Soundtrack For Twitch platform.
Check out our DMCA curated playlists on Spotify below:
Final Thoughts
Finding the right music to use in your Twitch streams can be a challenge, but with the right resources, it's easy to find great-sounding and copyright-free music.
Whether you're looking for original compositions or music licensed for use on Twitch, there's something for everyone on Soundtrack by Twitch.
And if you're still struggling to find what you need, Coya Music has a large collection of DMCA free music that is cleared for use on all Twitch streams.
Happy streaming!